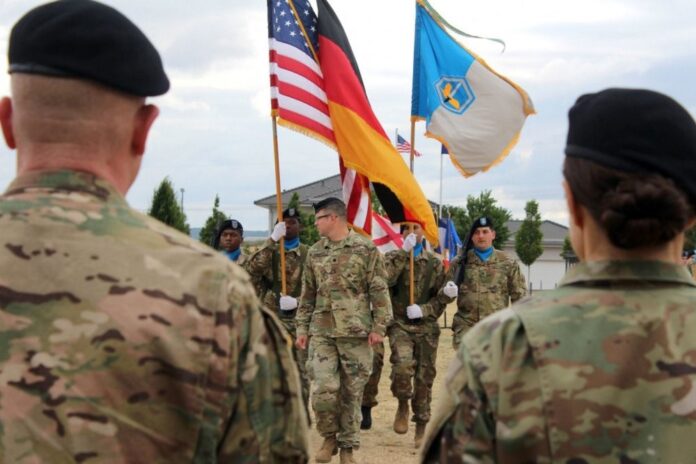 US Defense Secretary Austin said on the same day that the United States will send 500 additional troops to Germany, Deutsche Welle reported on the 13th. This move confirms the speculation that US President Biden intends to overturn the "withdrawal order" of his predecessor.
Austin said on a visit to Berlin on the 13th that the United States will send 500 more military personnel to Germany to strengthen bilateral relations, the report said. "We have stopped the withdrawal plan," Austin said at a joint news conference with German defense minister Karen Bauer. I think our plan to send 500 more soldiers is in line with our level of partnership and our commitment to NATO. " He said that this group of military personnel will be deployed in the Wiesbaden region of Germany as early as this autumn.
According to the New York Times, former US President trump once blamed Germany for not increasing the proportion of defense spending and paying up NATO's "money", saying that the US "does not want to be a fool any more". Trump said in 2020 that he intends to withdraw 12000 troops from Germany. Germany is the European country with the largest number of U.S. troops garrisoned in Germany. At present, there are about 35000 U.S. troops stationed in Germany for a long time.
At the joint press conference, kalenbauer welcomed the US decision as a "strong signal" for the healthy development of  US-Germany relations.
Austin's visit to Germany is the fourth stop of the U.S. visit to major allies and one of several recent video and face-to-face meetings between Biden's government and European officials, the report said. The meetings are part of the Biden administration's overall diplomatic efforts to appease allies shaken by the trump administration's frequent disparaging and sometime bullying tone.
Deutsche Welle analysis said that the U.S. military plan is not unimpeded. After World War II, there has been a strong anti war and anti nuclear movement in Germany. The anti war Green Party is in a strong position and is likely to join or even lead the next government after the federal election in September this year. And allowing the U.S. military to stay in its own country means tolerating the U.S. military's drone strike from Germany, which makes many members of the Green Party deeply uneasy.